Machine Pitch - Indoor Winter Hitting League Registration Information and Sign-Up Form
Falls Baseball is excited to introduce another 6 week indoor winter hitting program. Over the course of our inaugural hittng leaguue program, participants saw "a whole season of pitches" and improved their contact and well-hit ball rates.
UPDATE: The current hitting league has reached its capacity of 24 players. We limit participation to ensure all participants get enough playing time given the space we have reserved. A waitlist is forming. Any additional registrations made below will be added to the waitlist. Participants on the waitlist may be contacted in case of cancellations. No payments are due until registrations are confirmed.
Machine Pitch Indoor Winter Hitting League - for players that will be age 7 or 8 as of August 31, 2019:
This program is designed for young ballplayers that will play in a Machine Pitch division for spring/summer baseball in 2019. Wisconsin weather often prohibits adequate practice time before the season starts. To that end, this program will give players more confidence and practice against the spring-loaded machine. The hitting league format is designed to be a fun (emphasize fun) yet competitive atmosphere whereby participants will form small teams of 3-4 players per team and can score points based on hitting certain targets.
Sign-Up Information: Registration is live now using the form below. The current league is full - please complete the form to be added to the waitlist.
Eligibility: Boys and girls that will be age 7 or 8 as of August 31, 2019. There are no residency restrictions. Spots are limited and registrations will be taken in the order in which they are received - but in the event of a shortage of volunteer coaches or scorekeepers, preference will be given to those that register with a parent volunteer.
Cost: $75 per player. Includes 6 weeks of indoor hitting league. Registrations received by January 19, 2019 (or until league capacity is full) will receive a FREE youth long sleeve "Winter Hitting League" shirt similar to the one pictured below.
Participation Maximums: Participation is limited to 16 players in order to allow sufficient hitting time for each player. We have flexibility to add indoor time if needed expand the league to 24 participants if demand is high. Sign up early to guarantee your spot! Available spots are not expected to last long!
Parent Coaches and Scorekeepers Needed: Falls Baseball representatives will administer the 6 week program, but to ensure the kids are getting the most out of this experience, we are looking for parent volunteers to coach teams of up to 4 players per team or to help keep score. Parents may express interest in volunteering when completing their child's registration form. Coaching duties are minimal - there is no lineup to set or team equipment to haul around. Coaches are expected to help keep their team of 3-4 players organized, operate a pitching machine, and provide basic hitting instruction to players. Hitting league scoring is designed to be simple and easy to track.
Register With Friends: Falls Baseball believes having fun is more important than the final score, especially at this young age. Consistent with our fall league format, players may make teammate requests when registering in order to promote a fun environment and foster development. We do our best to accommodate teammate requests.
Free Falls Baseball Youth Long Sleeve Shirt: Players that register by January 19, 2019 (or until league capacity is full) will receive a free Falls Baseball Youth Long Sleeve "Winter Hitting League" shirt!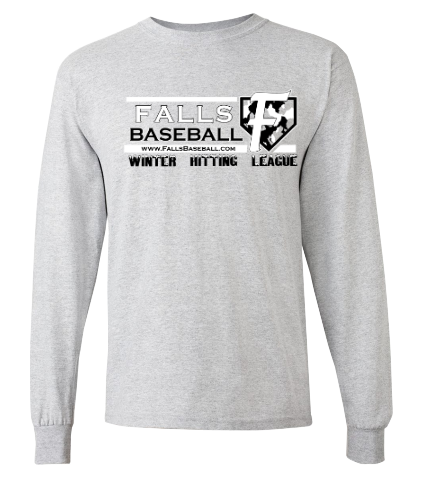 Hitting League Indoor Location: Falls Baseball has partnered with Brew State Baseball Academy (BSBA) to secure indoor space to offer this exciting program! The hitting league will be hosted at BSBA's facility at:
N89 W14400 Patrita Drive,
Menomonee Falls, WI 53051
LINK TO MAPS
Hitting League Dates and Times: Each team will be assigned a 45 minute timeslot to faceoff against another team, starting at 5:45pm, 6:30pm, or 7:15pm each week. Only 3-4 players will be assigned per cage to maximize hitting repetitions and minimize time in between at-bats. The league will take place on the following six consecutive Fridays:
February 1
February 8
February 15
February 22
March 1
March 8